Presiding Officer's Welcome
I am delighted to welcome you all to Holyrood for this, our 19th Festival of Politics. We present a programme that aims to engage people across Scotland with events both in-person and online on a range of issues, discussing everything from ethics in artificial intelligence to the future of Scotland's arts and culture sector.

We are delighted to welcome the broadcaster and former politician, Rt Hon Michael Portillo; the world's leading percussionist Dame Evelyn Glennie; and one of the foremost music conductors, Gustavo Dudamel, among those speaking at this year's Festival.

We have a lively free programme of music, choirs, dance and exhibitions in the Festival Café Bar where you are always assured a warm welcome. We look forward to seeing you all at your Scottish Parliament.

Rt Hon Alison Johnstone MSP
Presiding Officer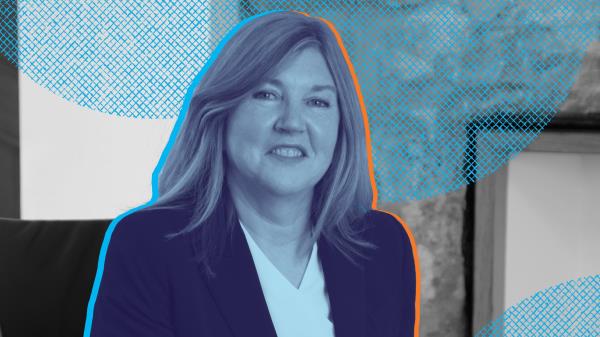 (Find the BSL version of this welcome message here)
Programme
Please visit the festivalofpolitics.scot homepage to see the programme and book tickets.
You can also browse the programme in PDF format (which has been designed to be printed rather than read on screen):
Festival of Politics 2023 programme (5MB, pdf) posted 29 June 2023
Festival Café Bar
Join us in the lively, free Festival Café Bar for live music, choirs and exhibitions as part of this year's programme of free entertainment.
Wednesday 9 August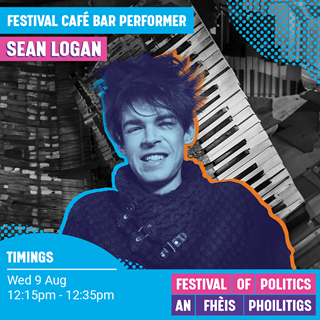 Sean Logan is a self-taught composer and multi instrumentalist who uses music to overcome the challenges of life on the autistic spectrum. Sean started playing the piano when he was six. He has had a long journey as a musician on the autism spectrum to get to where he is now. His shows inspire people to be a lot more open with their creativity and encourage them to get out there and show people what they can do and give them a new outlook on being neurodiverse and on the autism spectrum.
Sean had his first Fringe show, Full Spectrum, in August 2022, where he performed a variety of genres of original compositions interspersed with reflections on life as a neurodiverse musician. His Fringe show was also the only music show at the Fringe with a British Sign Language interpreter.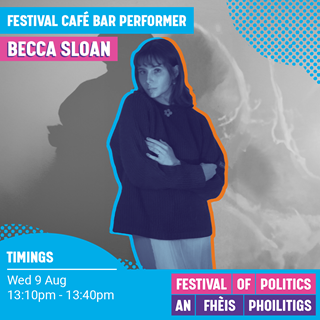 Becca Sloan is a rising name in the Edinburgh music scene known for her soulful voice, heart-felt lyricism and improvisation with her young-band. A BBC Introducing Scotland artist who has garnered attention for her distinct and soulful voice, she is inspired by the modern voices of Celeste, Cleo Sol and Puma Blue, as well as old classics such as Nina Simone and Otis Redding. With a new single in the works produced by Cathal Murphy, Becca's music draws upon themes of love, adoration and growing up.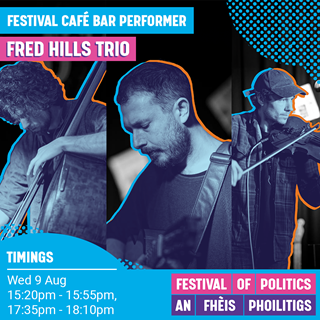 Fred Hills is a drummer, composer & collaborator based in Brighton, UK. Taking inspiration from a wide range of genres, Hills' music is a captivating blend of contemporary jazz, alt-folk & progressive indie. His debut EP Incerto, released via Ninja Tune, was described by BBC 6 Music presenter Cerys Matthews as 'a tapestry of delicate and expressive guitars, eloquent strings and colourful rhythms'. Fred Hills Trio consists of multi-instrumentalist Andrew Stuart-Buttle on violin/guitar and Alfie Weedon on double bass.
Thursday 10 August
Few bands are as musically diverse as DOPESICKFLY. Their infectious blend of funk & soul rock and hip-hop - complete with razor sharp lyrics - gives them a sound unlike any other. DOPESICKFLY's brazen sounds and gregarious diversity has seen them evolve into an extraordinary fusion of sounds and cultures. Fronted by vocalist and songwriter Ant Thomaz, the 5 piece are constantly influenced and inspired by one another's backgrounds. Their stories - past and present - mold and shift their sound to create something completely unique.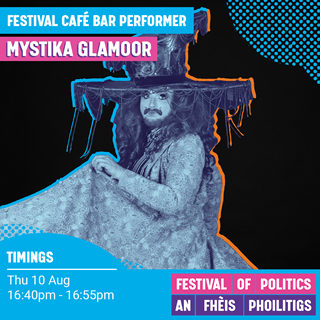 Mystika Glamoor is known as the surrealist socialist socialite of Edinburgh drag, blending campy humour with political themes and an esoteric twist. Having performed locally and internationally for six years, she has established herself as a force to be reckoned with on the local scene, hosting multiple shows as well as co-owning Kafe Kweer, a sober food and events space for the local queer community.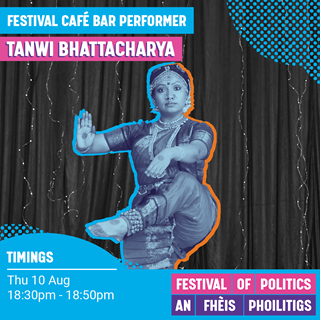 Tanwi Bhattacharya is an Indian classical dancer. She is practising Kathak, Bharatanayam and Bollywood. She was an IT professional and project manager for 12 years in different multinational companies but left that profession to pursue her passion to dance as a full-time dancer, choreographer and teacher. She is blessed to get trained under eminent gurus in India. She has received multiple awards and recognitions from different organisations of India and abroad.
Friday 11 August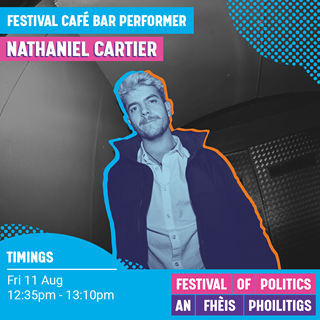 Nathaniel is an international Swiss artist, the creative director of the Edinburgh Collective and a multi-instrumentalist with a fondness for pop and jazz. He aims to create what he calls, 'good-vibe, organic music' that he uses to share down-to-earth- life stories and emotions. His music has been played on BBC Radio 6, BBC Radio 4, BBC Radio Scotland and he has just returned from his first Scottish Odyssey Tour.
He started singing, playing piano and saxophone as a child, developing a strong passion for jazz and pop whilst living in Zug, Switzerland and graduated from Edinburgh College of Art in Acoustics and Music Technology. His dream is to travel around the globe and record music with strangers, turning these moments into heartfelt songs that resonate with people around the world.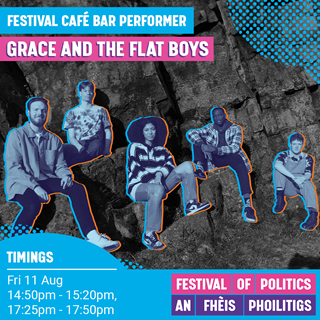 Grace and the Flat Boys is an Edinburgh-based band playing their own mix of jazz, R&B, rock, and soul. This year has seen them release two singles featured on BBC Introducing Scotland and sell out Edinburgh's Sneaky Pete's for the release of their single Sometimes. Following performances at the likes of Kelburn Garden Party, Stag & Dagger and Fynefest, the group is now working on a follow up to their 2021 EP Wheels with plans for release later this year.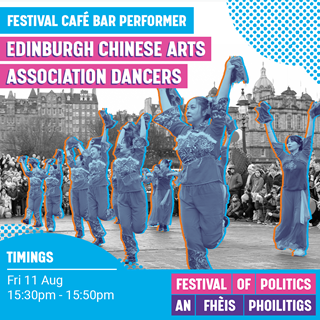 The Edinburgh Chinese Arts Association (ECAA) is a voluntary, not-for-profit, independent arts association established in 2013. Their aim is to improve the pursuit of Chinese art in Edinburgh, spread and display the charm of Chinese art, and prosper the multi-ethnic and multi-cultural artistic atmosphere in Edinburgh. ECAA also aims to promote community engagement and strengthen community cohesion through the arts and culture.
Events at The Hub
The Festival of Politics is delighted to be in partnership with Edinburgh International Festival on a series of events that explore fundamental questions posed by Dr Martin Luther King, Jr's final book Where Do We Go From Here: Chaos or Community? The events invite you to engage with key creative thinkers who will galvanise all of us to rise to the challenge posed by Dr Martin Luther King, Jr's text.
Three of these events take place at the Scottish Parliament:
There are also three free events taking place at The Hub in Castlehill:
Tickets
All tickets can be booked online on this website and will be available to buy up to two hours before each event. A limited number of tickets can be booked in person on the day at the Ticket Desk in the Festival Café Bar. Arrival at least 30 minutes prior to the event starting is advised. No phone bookings can be made.
We reserve the right to change or cancel any event. We cannot offer refunds or exchanges unless an event is cancelled.
Pricing
Concessions are available to children aged 5 – 16, Young Scot card holders, people aged 60 and over, students, unemployed people and disabled people.
The Festival Café Bar and all three exhibitions are free to access.
Exhibitions
Grit and Diamonds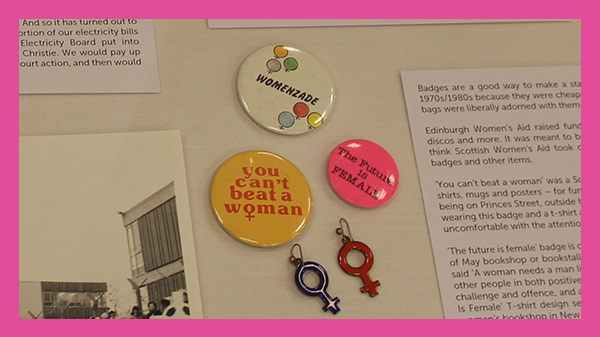 This curated selection of archive materials relating to two chapters from the book Grit and Diamonds and re-presented in partnership with Glasgow Women's Library, reflects several themes explored in this year's Festival programme including activism and violence against women.
The original exhibition highlights women as active and important contributors to Glasgow's history between 1980 and 1990 following very masculine narratives in Glasgow's approach to being a European City of Culture in 1990.
Mental health and wellbeing amongst people navigating the asylum process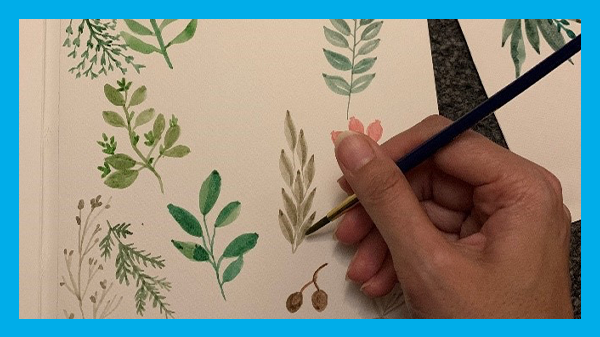 An exhibition from The Rights in Action project by the Poverty Alliance, in partnership with Maryhill Integration Network, that aims to raise awareness of the impact of migration on mental health and wellbeing.
This very personal exhibition, by people seeking asylum now living in Scotland, expresses, in their own words and photographs, the feelings of isolation, depression and anxiety through images that range from beautiful personal art to Glasgow landscapes.
World Press Photo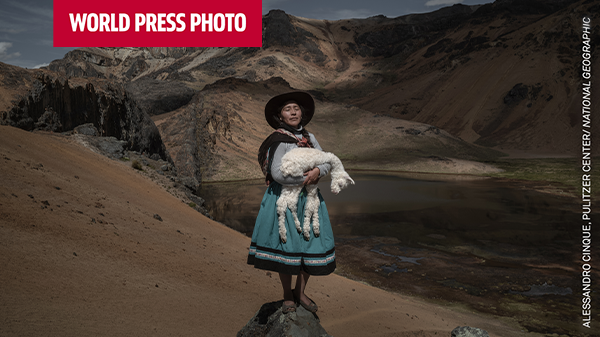 This year's World Press Photo Contest winners, chosen from thousands of entrants, highlight the climate crisis, community, war's impact on civilians, and the importance of press photography around the world.
Read more about the exhibition
Other activities at the Parliament
Find our more about tours, talks and visits on offer at the Parliament
Planning your visit
For parking information, opening times, and our security measures, see our page on planning your visit
Contact us
You can phone Visitor Services on 0800 092 7500 / 0131 348 5000 or email us on visit@parliament.scot or festivalofpolitics@parliament.scot.
Festival Supporters
Scotland's Futures Forum
Edinburgh International Festival
The David Hume Institute
The Scottish Council on Global Affairs
University of Glasgow
Glasgow Caledonian University
Scottish Youth Film Foundation
The John Smith Centre
University of Edinburgh
Coalition for Racial Equality and Rights
Scottish Youth Parliament
University of Aberdeen