Event description
The plea of the world's low-lying nations can no longer be ignored. Efforts are slow and real commitment is needed to deliver climate justice to the vulnerable nations who are most impacted.  With Scotland being the first nation to pledge loss and damage funds, the need for reparations and similar scheme needs becomes more urgent. Where is the will to act, and what needs to happen this year?
---
Chair: Foysol Choudhury MSP, Cross-Party Group on Bangladesh  
Panellists: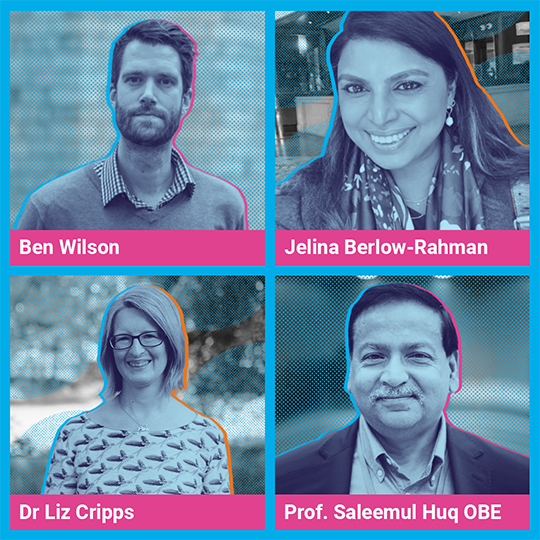 Ben Wilson is Advocacy Manager at the Scottish Catholic International Aid Fund (SCIAF). He oversees SCIAF's campaigning and influencing work on issues such as climate justice, food justice and international development, in Scotland, the UK and internationally. Ben has particular experience in campaigning on climate issues at the UN level, especially in recent years on the issue of Loss & Damage. He holds a PhD in Sociology from the University of Glasgow, which analysed Scotland's relationship with Malawi.
Jelina Berlow-Rahman is Senior Director of Berlow Rahman Hassan Ltd, Solicitors, Glasgow. She is also a member of Bangladeshi Diaspora for Climate Action working collaboratively with the Bangladeshi diasporas across the UK, because of the climate emergency faced globally, helping Bangladesh prepare for the inevitable crisis. She is also a patient ambassador and lay adviser for Kidney Research UK.
Dr Elizabeth Cripps is a Senior Lecturer in Political Theory at the University of Edinburgh and Associate Director of CRITIQUE: Centre for Ethics and Critical Thought. She has a PhD in Philosophy from University College London and a BA in Philosophy, Politics and Economics from the University of Oxford. Elizabeth researches and teaches climate justice and ethics. Her most recent books are What Climate Justice Means and Why We Should Care and Parenting on Earth: A Philosopher's Guide to Doing Right ByYour Kids - and Everyone Else.
Dr Saleemul Huq is the Director of the International Centre for Climate Change and Development and Professor at the Independent University Bangladesh. He has published hundreds of scientific articles and is recognised globally as one of the top influencers on climate change policy. He chaired the Expert Advisory Group for the Climate Vulnerable Forum and is also Senior Adviser on Locally Led Adaptation with Global Centre on Adaptation. Also, he is a Senior Associate at IIED and was also previously director of the Climate Change research group at IIED.
Accessibility
All Scottish Parliament event locations:
are accessible by lift or level access, and venues are accessible to wheelchair users
welcome guide dogs or other assistance dogs
Some venues are fitted with induction loop facilities.
Please contact us in advance if you have any access requirements.
Further information on accessibility at the Scottish Parliament.
Other events that day
Wednesday, August 9, 2023
In partnership with the Scottish Council on Global Affairs
Wednesday, August 9, 2023
Find out more the free live entertainment happening during the Festival
*By choosing Book Now, you will be taken to third-party site EventBrite to complete your purchase.