Presiding Officer's Welcome
I am delighted that we are back in person at Holyrood for this our 18th Festival of Politics. We present a programme of free and paid-for events that aim to inspire and engage people across a range of topics, from end-of-life choices to the cost-of-living crisis, the Festival offers a safe and informed space to discuss and deliberate.
Whether it's the spirited debate or the free programme of live music and exhibitions in the Festival Café Bar, you are assured of a warm welcome at your Scottish Parliament.

Rt Hon Alison Johnstone MSP
Presiding Officer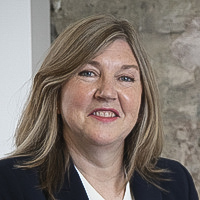 (Find the BSL version of this welcome message here)
Programme
Please visit the festivalofpolitics.scot homepage to see the programme and book tickets.
You can also browse the programme in PDF format (which has been designed to be printed rather than read on screen):
Festival of Politics 2022 programme2.4MB pdf posted 11 July 2022
Tickets
All tickets can be booked online on this website and will be available to buy up to two hours before each event. A limited number of tickets can be booked in person on the day at the Ticket Desk in the Festival Café Bar. Arrival at least 30 minutes prior to the event starting is advised. No phone bookings can be made.
We reserve the right to change or cancel any event. We cannot offer refunds or exchanges unless an event is cancelled.
Pricing
Concessions are available to children aged 5 – 16, Young Scot card holders, people aged 60 and over, students, unemployed people and disabled people.

The Festival Café Bar and all three exhibitions are free to access.
Festival Café Bar
Join us in the lively, free Festival Café Bar for live music, choirs and exhibitions as part of this year's programme of free entertainment.
Exhibitions
Cubes of Perpetual Light in the Members Garden
The Cubes of Perpetual Light in partnership with Dandelion, is an installation centred on sustainability and the concept of sow, grow and share as applied to music, community, food, ideas and knowledge. The Cubes combine miniature vertical farms with LED lighting and specially commissioned music, to encourage plant growth.
Portraits of a LGBTI+ Generation
Portraits of a LGBTI+ Generation showcases 10 portraits and videos featuring members of the National Theatre of Scotland's LGBTI+ Social Dance Club. With photographs by Tiu Makkonen, the exhibition gives a sense of the varied, rich and remarkable lives of many LGBTI+ elders living across Scotland.
World Press Photo
This photojournalism exhibition showcases over 120 images illustrating some of the major issues facing the world today – from the effects of the climate crisis to civil rights movements, access to education and preserving indigenous practices and identities. Read more.
Other activities at the Parliament
Find our more about tours, talks and visits on offer at the Parliament
Planning your visit
For parking information, opening times, and our security measures, see our page on planning your visit
Contact us
You can phone Visitor Services on 0800 092 7500 / 0131 348 5000 or email us on visit@parliament.scot or festivalofpolitics@parliament.scot.
Festival Supporters
Scotland's Futures Forum
National Theatre of Scotland
Coalition for Racial Equality and Rights
Elect Her
Scotland's International Development Alliance
John Smith Centre
Lord Lyon
University of Aberdeen
Blackwell's Bookshop
Waterstones
The Times Scotland